Gaming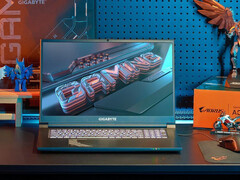 With the Core i5-12500H CPU and a GeForce RTX 3060 laptop GPU, all current titles can be displayed smoothly on the matte FHD display (300 Hz). The GPU and CPU are accompanied by a fast PCIe-4 SSD (1 TB), 16 GB of RAM, and a Thunderbolt 4 port. A copy of the Windows operating system is not included.
Sascha Mölck (translated by Marius Schell), Published 🇩🇪
With the G7 KE, Gigabyte has a relatively affordable gaming notebook on offer: For around 1,200 Euros (~1,300 USD), buyers receive 17.3-inch laptop with a GeForce RTX 3060 laptop GPU. Cheaper models with a GeForce RTX 3050 (G7 GE) or a GeForce RTX 3050 Ti (G7 ME) are also available. All variants are equipped with a Core i5-12500H Alder Lake processor.
The lack of an included Windows operating system plays a significant part in the relatively cheap price point of our test model.If you do not own a valid Windows license and do not wish to purchase one, installing a Linux distribution should also be possible. However, the installation and setup process of the alternative OS may be very challenging for some users.
The system is suitable for FHD gaming at high to maximum settings. The components also support higher resolutions when connecting an appropriate, external display – some of the graphics settings may have to be reduced in that case, however. In total, up to three external monitors can be connected to the G7 (1x HDMI 2.1, 1x Mini DisplayPort 1.4, 1x DisplayPort via USB-C).
The matte FHD display (IPS, 300 Hz, sRGB) of the G7 features short response times, good viewing angles, great colors, and a good color space coverage. The brightness and the contrast ratio match or exceed the values we consider good (300 nits, 1000:1). With the fast PCIe-4 SSD, the gaming laptop delivers a sufficient amount of storage (1 TB) and short loading times. Expanding the storage is also possible in the event that the first drive's capacity is exhausted: There is space for a secondary SSD (PCIe 3).
More information and many benchmark results can be found in our in-depth review of the Gigabyte G7 KE.
Linked Articles
Gigabyte G7 KE (G7 Series)
Related Articles
Editor of the original article: Sascha Mölck – Senior Tech Writer – 918 articles published on Notebookcheck since 2012
What started as a side job during my computer science studies later became my main job: For more than 20 years now I have been working as an editor and author in the IT sector. While working in the print sector I also contributed to the creation of various loose-leaf publications and published original written pieces. I have been working for Notebookcheck since 2012.
Translator: Marius Schell – Tech Writer – 399 articles published on Notebookcheck since 2020
Even in my youth I was already very enthusiastic about technology, and as a result I started building PCs, optimizing them, and writing programs while I was still in school. When dealing with the inevitable hardware and software problems associated with computers, I was always relentless in my search for the necessary solutions. The compact forms of laptops and smartphones introduced further challenges in this regard. In my reviews for Notebookcheck I try to communicate as objectively as possible how well a device copes with these hurdles.
Sascha Mölck, 2023-01-26 (Update: 2023-01-24)