Gaming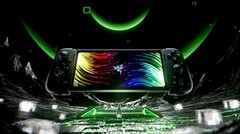 The Razer Edge is now orderable in Wi-Fi-only and 5G variants. Both variants feature the Snapdragon G3x Gen 1 chipset, a 144 Hz AMOLED display and a 5,000 mAh battery, among other components. The Razer Edge starts at US$399.99 and rises to US$599.99 for the 5G edition.
Razer has started selling the Edge, its take on the Android gaming handheld. To recap, Razer presented the Edge last autumn and showcased it earlier this month at CES 2023 in Las Vegas. Razer has also finally confirmed pricing for the 5G variant; previously, the company only revealed how much the cheaper Wi-Fi-only option would cost at launch.
At the heart of the Razer Edge is the Snapdragon G3x Gen 1, the CPU and GPU configuration of which Qualcomm remains silent about. Additionally, the Razer Edge contains 8 GB LPDDR5 RAM, 128 GB of expandable storage and a 5,000 mAh battery that powers a 6.8-inch AMOLED display running at 1080p and 144 Hz. For reference, the Razer Edge measures 260 x 85 x 11 mm and weighs 401 g with its controller attached. The Razer Edge has an active fan for cooling the Snapdragon G3x Gen 1 too, as well as 3.5 mm audio pass-through and haptic feedback.
The Razer Edge is now orderable in its Wi-Fi-only guise for US$399.99 before taxes. However, the device will not start shipping until February 8 in the US. Currently, it seems that the Razer Edge is exclusive to Razer's website. By contrast, the Razer Edge 5G retails for US$599.99. As expected, the 5G model is a Verizon exclusive. Initially, Verizon will offer the Razer Edge 5G for US$359.99, but only when you add a new line. It is worth noting that Verizon will still charge US$599.99 but will apply a US$239.99 promo credit over 36 months. Alternatively, Verizon will include the Razer Edge 5G for US$179.99 when you also buy a new 5G smartphone. 
Related Articles
Alex Alderson – Senior Tech Writer – 7242 articles published on Notebookcheck since 2018
Prior to writing and translating for Notebookcheck, I worked for various companies including Apple and Neowin. I have a BA in International History and Politics from the University of Leeds, which I have since converted to a Law Degree. Happy to chat on Twitter or Notebookchat.
Alex Alderson, 2023-01-27 (Update: 2023-01-27)